Experienced Professionals in Technology Management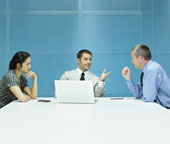 W3IT was originally founded on March 31, 2009 by Shawn and Lara Clark under a partnership business structure. The company was originally called "Wired Weekend Warrior," which was named as such because the business was initially a secondary career that started as a hobby performed primarily on the weekends.
"I never originally intended to turn my side business into my primary career, but we just kept getting referrals and everything snowballed, and now we're one of the fastest growing tech companies in Texas" ---Shawn Clark, COO.
As the company grew Shawn wanted to legitimize and professionalize the business and its outward appearance. In March of 2010 Shawn and Lara Clark filed to change the business structure to a Limited Liability Corporation and the legal name to "W3IT Design LLC", DBA: W3IT. Lara took on a leading role with the administration of the company and was given majority ownership in the business. Shortly thereafter W3IT filed and received HUB status from the State of Texas.
In March of 2011 Shawn left his primary employer and worked towards building the small family owned company into something bigger.
W3IT currently employs 16 full time technicians who work alongside the company owners and administrators, Shawn and Lara Clark. The company's primary office is located in College Station Texas and has a second office location in Ruston Louisiana.
Currently W3IT supports a growing list of over 400 clients, primarily in the Southern part of the US. We currently support clients in Texas, Arizona, New Mexico, Louisiana, Mississippi, Georgia, and Florida.
The goal for W3IT then and now is simple: To bring a new level of service and support to the Brazos Valley and surrounding areas in regards to anything and everything that encompasses Information Technology
W3IT is a company with values based on customer satisfaction. Our goal is to deliver the highest quality product for a reasonable price and in an efficient amount of time; while at the same time designing the best solution to fit our clients' needs.
The bottom line: We are going to give you exactly what you want with the highest level of professionalism and service or we'll give you your money back.
PS: Check out our sister company: VoiceSurge