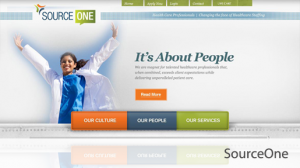 SourceOne has selected W3IT to provide executive level leadership for its technology operations. SourceOne is a nationwide company with 20 Million in annual sales. They are projected to grow to 40 Million in sales by 2013.
What SourceOne is in there own words:
"We are a staffing firm that is crazy passionate about our people, our clients and most of all the patients we serve on a daily basis. We can confidently say we are very unique when it comes to healthcare staffing.  You see, our company is owned and operated by clinicians like yourself. This gives us the ability to fully understand the life-cycle of healthcare staffing. This allows us to fully understand the needs of our clients.
The core of who we are resides in the fact that we are a company founded by clinicians and we are proud of that. We are also proud of the community we've developed at Source One between our employees, clients and patients. We encourage our employees to build strong relationships based on integrity, understanding and mutual respect. The owners have always and continue to be directly involved in the management; each decision is weighed against criteria that reach far beyond short term outcomes. We ensure the long term viability of Source One so it will continue to provide unparalleled services for years to come."